Blue Wave Antique Japanese Ohajiki Game Piece Ring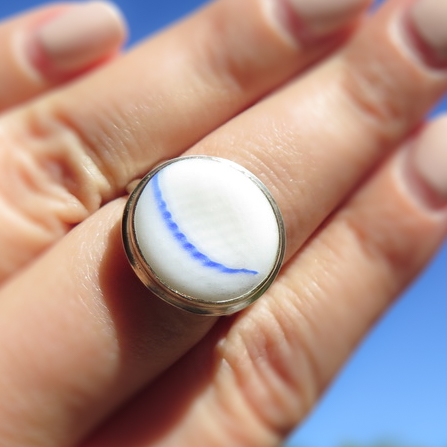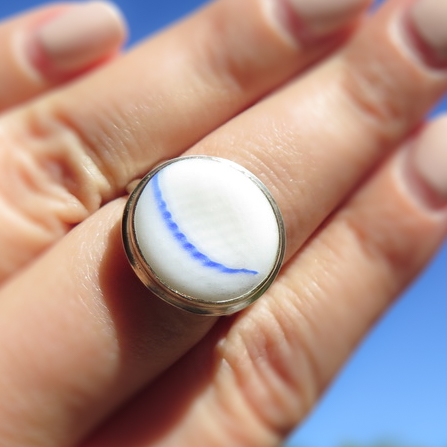 Blue Wave Antique Japanese Ohajiki Game Piece Ring
This one of a kind sterling silver and sea glass ring is made from a fabulous milk glass and bright true blue Japanese Ohajiki piece. A wonderful reminder of the sea!
Ohajiki is a Japanese children's game. The pieces are round in shape and flat, with markings made by the individual glassblowers who made the pieces. Some show a cross-hatch pattern, others straight lines, and the rarest ones have symbols or numbers pressed into the glass. Each piece is decidedly unique and only found in Japan. The game is still played, but the pieces I use are quite old, most date from 80-100 years in age. This game was often played at festivals that were held along the beach. Since this game is played on a table, where pieces could have easily fallen into the sand, many pieces were likely lost during festive play. Now, nearly 100 years later, they have been tumbled by the sea and frosted by years in the sand. Each piece is genuine Ohajiki, found in Japan, and set in fine and sterling silver.
Set in fine (pure) and solid sterling silver by me, this piece is set on a lovely double strand split hammered band and is super comfortable to wear. It is a size 8 and can be enlarged to a 8 1/2 upon request. Please leave a comment in the checkout process if you would like this ring enlarged.
Each piece of Sea and Sky Studio jewelry is made using genuine surf-tumbled sea glass and is created using solid gold and silver by me, by hand, in my studio. Each piece is a true labor of love. I have done my best to carefully photograph each piece show its true color, but please allow for some shift as sea glass reflects what is around it as well as color shifts due to monitor differences. Thank you for considering my work for your collection!